Scenar Treatment
All members of the Scenar Practitioner Society of Ireland are fully qualified Scenar Therapists and offer their services throughout the country.
They offer treatment for many ailments of either a physical, emotional, nervous, psychological or mental nature including:
Angina, Anorexia, Anxiety, Allergies, Arterial, Asthma, Arthritis.
Blood pressure, Back pain, Bladder problems, Boils, Bleeding gums, Bulimia, Breast.
Catarrh, Colitis, Circulation, Cramps, Cystitis, Constipation.
Discharges, Dizziness, Depression, 
Eczema, Earache, Emotional,
Fatigue, Fluid retention, Fibroids.
Grief, Gastric.
Headaches, Hyperactivity, Heart, Hypertension, Hysteria.
Indigestion, Irritability, Insomnia, Irritable bowel, Infertility.
Kidney.
Lumps, Lung, Lumbago.
Mental, ME, Migraine.
Nausea.
Overweight.
Painful periods, Prolepses, Panic attacks, Pregnancy, Palpitations, Phobias, Psoriasis Rashes, Respiration, Rheumatism.
Shoulder, Sinusitis, Stress, Slipped discs, Stomach complaints.
Ulcers, Urinary.
Vertigo.
How Scenar works on a disease:
Electrical impulses, the parameters of which are similar to endogenous nerve impulses, are transmitted through the skin to the nervous system. Fast-reacting informational biofeedback means that each impulse is different from the previous one and helps to speed up healing.
Scenar action influences the adaptive processes of the organism and helps harmonise them. In response to Scenar impulses the Nervous System releases neuropeptides, which are broken down into many compounds, which are themselves, bioactive. As a result, balance (homeostasis) is gradually and gently restored.
Clients having Scenar treatment need to take responsibility for their health and are advised to actively participate in the treatment and recovery process. The chemical compounds, released by the nerves, affect not only the problem areas, but also circulate in the blood treating other areas of the body. This goes some way to explaining how old - and often forgotten problems - are brought to the surface for treatment.
How does it differ from other therapies?
There are several ways in which it differs from other electrical therapies.
Unlike TENS impulses, each Scenar impulse is different from the previous one so that the body is able to adapt to the signal, thus breaking the body's negative habits and encouraging healing.
Scenar impulses are high amplitude so may stimulate C-fibres, which make up about 85% of the nerves in the body. This explains the effectiveness of Scenar therapy in the whole body.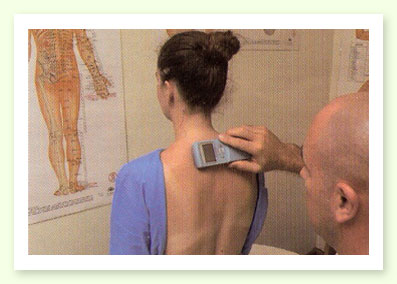 Scenar Treatment on Back